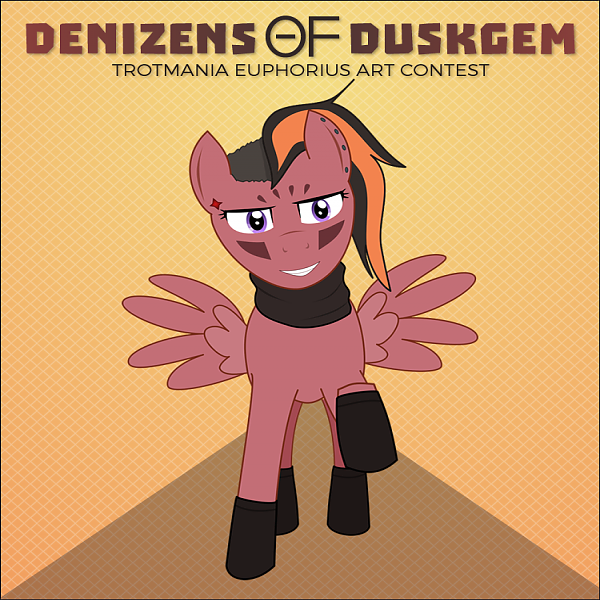 The Flames of Stone's Throw have once again, called upon everypony to consider making a trip to its annual Gathering of Embers in the Duskgem Basin just a few hours west of Reino. It's always an interesting event; it is held in tribute to a famous mare who helped a nearby village escape to shelter in the desert when a tyrant threatened to "bring fire" to them. It has since evolved into an annual event celebrating freedom, self-expression, survival, spirituality, and community, where the light of the flame(s) apparently brings everypony together, and a gigantic effigy representing the Tyrant is set on fire as a grand finale (their logic? Why bring fire to us when we can just bring it to him instead?). The actual tale's a bit more long-winded, though, and there are many conspiracy theories about what really happened and why this gathering occurs. Of course, the organizers actively deny them.
Everyone else (well, especially the younger crowd), however, considers the Gathering to just be a gigantic camping party in a makeshift city in the middle of nowhere, filled with eclectic "art", everyone dressed up like they're going to a rave or an Enraged Equines film (or a rave during an Enraged Equines film!), live music of all kinds, and things being set on or able to blast fire, or otherwise lit up at night, because symbolism. A mare named Blast Furnace, who is the sister of the Gathering's current leader, enjoys these misconceptions, but has been trying to help educate others on what the event is really about, and how to survive the unpredictable conditions out there. But much like everyone else, she likes a good party!
Her resources may be beneficial to somepony else, who's dealing with a rare case of something that happened in Las Pegasus
not
staying in Las Pegasus…
Enough with the backstory! Get to the contest!
TrotMania
is an MLP-related StepMania pack (like DDR) project I lead. You may or may not have heard of it, but ever since our third release, we've been upping the ante in the design department, with an original universe and overlying themes/storylines corresponding to each edition, as well as OCs serving as "mascots". We're working on the fourth version, "Euphorius", right now. On the third version, we experimented with having a contest to create art with line with the theme of it (it was a dance music festival last time), with submissions being featured in the final 'game', such as on the backgrounds you see when you finish a song. It was a small, yet successful endeavour, so it's only fair that we're doing it again! This time, the rewards will be a bit more manageable: all entries will be featured somewhere in TrotMania Euphorius, and the creators of the best artwork submitted as judged by the TrotMania team will receive additional prizes (most likely free pony art from one or more people. Definitely including me, of course. And maybe even you, cause we're also taking offers for prize donations).
Just like last time, the goal is to create art of your original characters (either one of your existing ones if you want to be Horse Famous™, or someone new) that fit the theme of Euphorius. This time, given that we actually have a suite of TrotMania-specific characters now too, you're free to incorporate them as well.
What do I need to do?
Submit artwork meeting our theme, featuring either an OC of your own, one of the TrotMania characters (you can see them all
here
, which includes references for their canonical outfits), or
Aerial Soundwaves
(the mascot of our partner and host PonyvilleFM). We prefer the art to be done in the show/vector style, but we had a new non-show-style entries last time and we managed to make it look good regardless (you're more likely to get into menus if its show-style). The only rigid requirement is that it has to be a transparent PNG.
TrotMania Euphorius is set during the Gathering of Embers, which is an homage to a real-life event known as Burning Man (much like the Summer Sun Celebration, which was the theme of TrotMania III, was a parody of EDC). How one dresses up for an event like this is widely-documented (either rave-ish, or more industrial/Borderlands/Mad Max-ish, goggles and masks for sandstorms, etc.).
This article
provides some ideas on what would be appropriate dressage; your job is to ponify it, basically.
Art theft will not be tolerated

We are not allowing the use of bases.
Collaborations with a second artist are allowed; if a collab wins, the prizes will be awarded to both of the contributors at once.

There can be one or more characters in a single artwork

No Alicorn OCs.

Keep entries appropriate and safe for work; i.e. no drug use, nothing that would warrant a Questionable tag or higher on Derpibooru, etc.

You may enter up to three times per person (of course, if you want to contribute additional art, you sure can! But only your first three entries will count for the contest judging)

By submitting art in this contest, you allow it to be used within the TrotMania project (either within posts on the site or artwork within the TrotMania Euphorius theme). You will receive credit for your art, don't worry.
You may submit your entries either on this journal, by tagging them with
#denizensofdarkgem
on DeviantArt, or by posting them on the
TrotMania official website.
Our official deadline is November 25, 2016, so you have more than enough time. If you have any questions, feel free to ask!
Good luck, and stay pony!